Hello!
Seems a little early for Halloween, but Fall is only a weeks away!
This month's challenge is "Clean 'n Simple" truth be told, I am cheating a little bit. My understanding is a clean and simple card is one layer, mostly white (or lots of empty space) with little or no adornments. I simply can't wrap my head around it!
Most supplies are linked below (some aren't available and are left out.) All I did was mask off the center of my Hero Arts Spider Web stencil and applied orange ink. Since it was showing the positive area as white, I applied Ranger's Halloween glitter using a fine tip glue along the strands. Let dry before removing excess. (Pro Tip: this glitter is awesome, but super fine and super hard to clean up. Ask me how I know! It's so full of static it sticks to my water mat and everything else. So contain the bling carefully!
I heat embossed blank ink with clear powder for the sentiment (from a past MMH kit that's sold out.) I added a couple googly eyes and a few spider confettis I had in my stash.
The "A Blog Named Hero" challenges are now held over on our Instagram page @ablognamedhero so be sure to enter there for a chances at a $50 and $25 Hero Arts shopping spree! The challenges go from the 1st through the 26th of each month.
Here are the links (AFIL-Thank you!):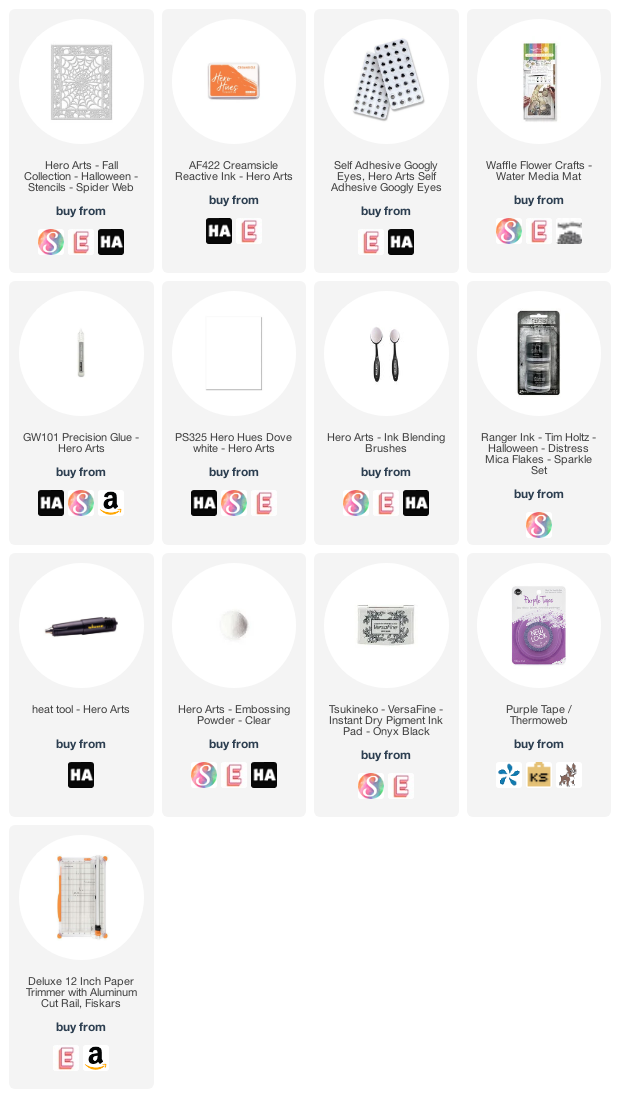 I hope you are beating the heat and enjoying what is left of Summer!