Welcome back!
Wow! Where has summer gone? Lot's of things happening at The 'Creek, so please forgive the long time between posts. Before we get to the "heavier" sentiments of Thanksgiving, Christmas, etc. I thought we would take a look at the playful style of
Lawn Fawn.
I have been on a bit of a binge getting their products for a few reasons. One, their style crosses their whole line, so mixing and matching up sets is easy. I especially like how they do little mini-sets that compliment the others, so if you only can spend a few bucks "freshening" your stash, you can! Like Hero Arts, Lawn Fawn is pretty readily available in brick 'n mortar stores as well as online, which makes it fun for a fast fix!
Lawn Fawn has lots of scene building sets and easy to use, interactive stand alone dies. Though not my forte, I plan to practice building scenes very soon.
One of the scariest, but exciting things going on is my attempt to do some youtube videos. I finished the "craft cave" tour- but am not sure when it will be posted, so come back soon! I want to pair it with a "Lawn Fawn Pop-Up Box Palooza!" video that I haven't shot yet. I have some really fun boxes in the works, that are easy as well.
I joined the
Lawn Fawnatics
group on FB and found out that they are starting to do challenges, so take a look.
In the meantime:
Here's a quick and easy shaker card using #Lawn Fawn "How You Bean?" stamp set with shaker add-on die set.
Here is Kelly Marie, one of the Lawn Fawn owners at the Simon Says Create event demonstrating the pop-up box die during a make 'n take session I attended. I will be featuring this box several ways in a video soon!
These Halloween cards are from the "Booyah!" stamp set. I got several of their Halloween sets recently to show you soon!


If you are interested in purchasing any of the products used, I would really appreciate it if you would click on my affiliate links below or the general vendor ones on the right margin. Thank you so much!!!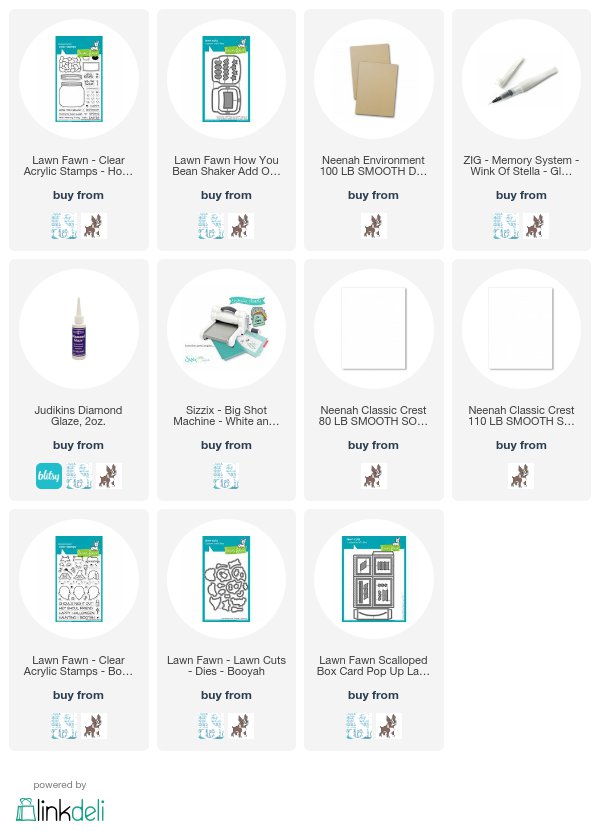 Until next time!
Gale
Hello Everyone!
There are so many awesome companies! We are so lucky to have them to fuel our "crafty appetites!" They keep coming up new techniques and styles, as well as ways to re-work the tried and true.
So occasionally, I am going to post projects that feature products from a specific company. This first edition features
Hero Arts.
This company has been around pretty much since the get-go, but they keep evolving with the trends. If you have been making cards for very long, you likely have at least one of their stamps.
Recently (well recent for someone who has been crafting several decades) they have been making awesome monthly card kits. Unfortunately, they sell out sometimes within hours. Someone like me who doesn't need every theme or product is often out of luck because I don't get a subscription. They have been coming up with unique dies (paper layering for example) as well as the popular and often very realistic stamp layering sets.
This example features the Poppy Layering set. I will have all the products linked at the bottom in case you are interested!
This set is very forgiving, so you don't need a Misti Tool, but if you are mass-producing, it will come in handy! I masked off the leaves and flowers, stamped three layers of ink to each flower and added the black centers. I went over the black with a black Glaze Pen for some dimension and shine. I die cut the white panel and layered it on a card base. After adding the sentiment, I flicked gold paint on it, then added some clear drops to finish it off.
Here are links to other Hero Arts project posts:
Example 1
Example 2
Example 3
Example 4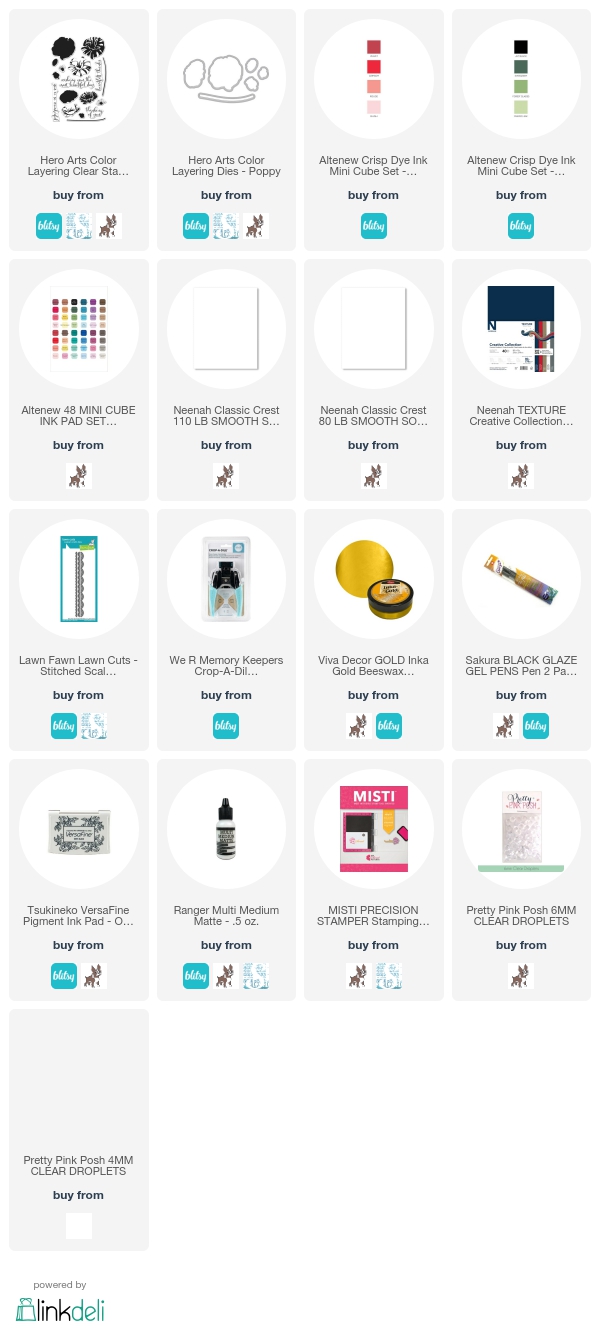 Until next time,
Gale