December 29, 2017 Update...
Retrofitted Felt Figures!
Here is a YouTube tutorial on how to stretch those plush dies! Several examples below the product list. There is another post you might like as well:
New Plush Dies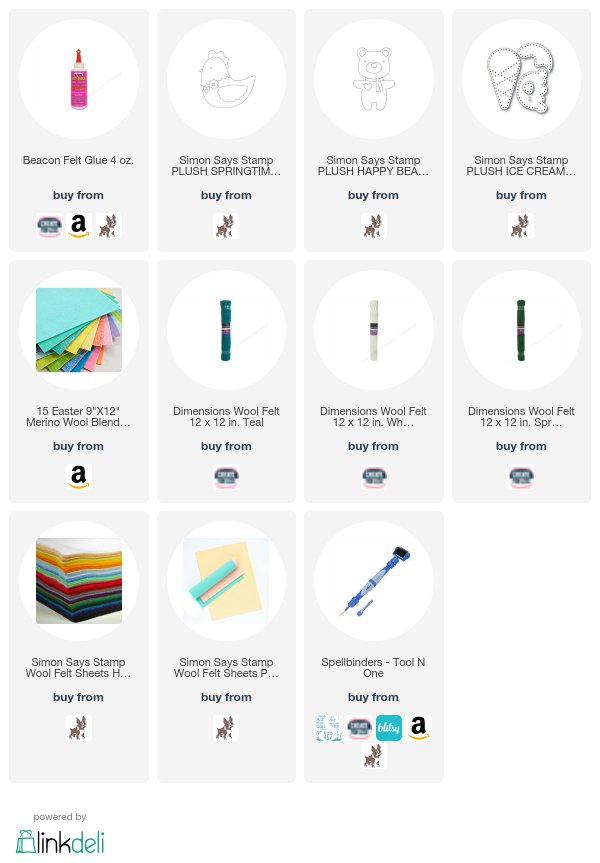 Howdy folks!
As promised, I started a personal challenge to see what all I could do with the
Simon Says Stamp
(SSS) Plush Bear Die. I am trying to limit my craft supply spending, (unsuccessfully, LOL!) and want to maximize use of what I get. Since these dies are nearly $30, this was a good starting place:) I only have the chicken and bear currently. (See chicken designs at
Gale's Gallery XXII
.)
I started this project awhile ago, but have been in the yard since the weather has improved. Knowing it might be awhile before I get the rest of my 12 "bears, etc." done, I decided to show you the ones I've finished. The rest will come soon...I hope. The felt is mostly from
Ellen Hutson
.
BRUTUS BUCKEYE!!!
If you live in central Ohio, I don't need to explain. But, he is the mascot of my alma mater, The Ohio State University. I diecut the body twice in dark brown fabric and once in read. I cut off the head of the red (gently), and stacked it on top of the others. I took the red ears to make the cap, cut out the other little pieces from the scarf piece, put on googlie eyes and stitched his open mouth as he yells OH-! He is slightly stuffed with batting. This one can't be given to young folks, but I wasn't planning to give him up anyway!
Next is the panda bear...
Panda Bear
All I did was cut two black bodies and one white. Decapitated the white piece and layered on top. All of the hand-stitching was done in backstitch.
There's a mouse in my house!
Mr. Mouse



Okay, I was too lazy to get up and turn the light on, so was sewing in near dark conditions.:) A couple boo-boos and I think I should have made the whiskers longer. Oh well, he is still stinkin' cute!




Here comes the Gingerbread Man!









Then the one I call Random Bear....just felt like trying out the blue felt!
It took a little doing because I didn't have flesh colored felt, so I colored it with my Copic marker, but I think this little guy is pretty cute too!
Wouldn't these be cute for a shower?
I have six more designs to come (so far.) Be sure to come back to see them. If you have any questions, feel free to ask in the comment section below. Also, does anyone have other ideas of what these can be used for? I am drowning in Christmas ornaments so need to find another excuse to make more of these!